(703) 282-9080
www.JansenandCompany.com

Get Your Free Home Buying Guide Today!
Get updated on the Northern Virginia Real Estate market every quarter by top leading experts and data.
Be on top of your home buying game!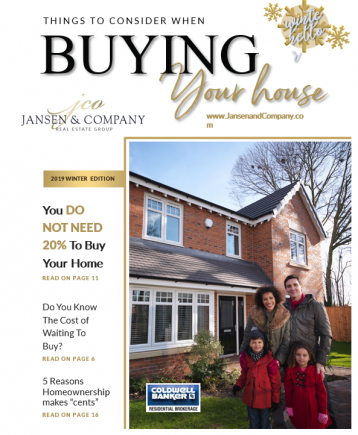 New home properties for sale!
Our staff is trained to help you get the best property for your budget. We will help you navigate through the processes!
"Yvonne went above and beyond to help us find the perfect home in a neighborhood that fit all our wishes. We had a vision of what we wanted and Yvonne was with us 100% of the way. I deeply appreciated her patience and flexibility as we toured many homes and had 3 young children to juggle along the way. She was able to provide expert guidance throughout the search, offer, and buying process so that we felt well informed to find and close on our dream home. When a last-minute snafu came up right before our closing day, Yvonne jumped into action to coordinate all the involved parties and successfully resolved the issue within hours. We were thrilled that our closing stayed on time, as planned, with no surprises.
Thank you, Yvonne!
Stephanie and Austin Bozarth
McLean, VA
Work with the best Real Estate team!
Be the first one to hear!
Our staff is trained to help you get the best property for your budget. We'll find a space that has everything you need for the lowest price on the market!
"Based on my experience Yvonne is a seasoned pro at helping families buy and sell homes. Through and through our experience with her was great even when dealing with less than easy situations. Her negotiation skills and intuition are top-notch and her calm and rational demeanor is wonderful to have in a time that is naturally stressful. In addition, Yvonne has a large network of professionals that you would typically need (handymen, brokers, etc) when buying and selling a house. I can wholeheartedly recommend Yvonne to anyone in the area who is looking to buy and/or sell their home"
Hennen Family, Home Sale & Resale Purchase
"Yvonne helped us sell our house and purchase our new house. As a seller offered expert advice on sale price and walked us through negotiating offers. She also listed the house on multiple databases to increase visibility. Yvonne also walked us through the purchase of our new-construction home. She helped us select features that we liked and also made us mindful of features that enhance sale value in the future"
Vereb Family, Home Sale & New Home Purchase
"I have requested Ms. Jansen's assistance twice. Most recently on the purchase of land; which is much different than the purchase of a house. Ms. Jansen explained the process to me and answered my innumerable questions. Without question, I would have been confused and frustrated without her calming demeanor. But more importantly, she instinctively knew the seller's "sweet spot" and I now own land for many hundreds of dollars less than I was willing to offer and pay.
In addition to the land acquisition, Ms. Jansen used a very critical eye to suggest the perfect site on which to build my home. Her suggestion to move the house site 20 feet west and to rotate the site 20 degrees towards the east resulted in a view that is unparalleled.
I do not believe you will find a better realtor anywhere!"
HL Downey, Land Purchaser
Real customers, real satisfaction!
FIND YOUR NEXT HOME HERE!
Sign up today, and we will take care of the rest!
Copyright 2019 © Jansen and Company Real Estate Group